1742-1744
REV. RHYS JONES
(No Photograph)
Rev. Rhys Jones was born in Tregaron. He took up the call to the ministry at Penyfai around 1742-73, but to the great disappointment of the church he only stayed there for 2 years.
1745-1801
REV. JONATHAN FRANCIS
(No Photograph)
Jonathan Francis was born in 1722 or 1723 and was baptised in Newcastle Emlyn in 1738. He married a young girl from Magor in 1744. He preached at Penyfai for a few years and was then given the call to take pastoral care of the chapel there. He stayed as the minister for the long period of 55 years. He was given an assistant in the latter years of the ministry, as there was no suggestion of him resigning or retiring. The assistant came to the person of Thomas Edwards who was later ordained as minister after the death of Jonathan Francis who died on September 13th 1801.
1801-1814
REV. THOMAS EDWARDS
(No Photograph)
The Rev. Thomas Edwards was the successor of Jonathan Francis in Penyfai in 1801. He was very faithful and successful, and served his congregation well for the next 14 years where he baptised many people. He then changed his theology, and abandoned the calvanism of Penyfai in favour of Arminianism. He joined Ruhamah, Penybont and eventually became their minister. He later returned to Penyfai but never ministered again. He died on June 4th 1841 aged seventy eight and is buried in the graveyard at
Smyrna Penyfai.
1814-1821
REV. BENJAMIN DAVIES
(No Photograph)
The Rev. Benjamin Davies followed after the Rev. Thomas Edwards. He was a native of Pembrokeshire and was believed to have been on trial at Penyfai for two to three years before being ordained in 1841. He shared his ministry between Penyfai and Ystradyfodwg Church on alternate Sundays for seven years. He lived in Penyfai and remained there until his death on September 3rd 1834 aged 49, and is buried in Smyrna Church yard.
1835-1845
REV. DAVID THOMAS
(No Photograph)
In 1835 the Rev. David Thomas was inducted to Penyfai as the successor to the Rev.B. Davies. He was ordained on May 30th 1825. He apparently came to Penyfai from Cardiff when he received the call from the church at Penyfai and remained in service for ten years. He died in July 1875 at 76 years of age and is buried in Penyfai.
1847-1889
REV.REES DAVIES
(No Photograph)
The Rev. Rees Davies received a call from the church at Penyafi, where he was ordained on Wednesday May 4th 1847. Nebo Cefn Cribbwr was also under his care. Mr Davies remained faithful and respected as the Minister of Penyfai until his death on September 16th 1889. He was buried in the church yard of Penyfai chapel on November 20th 1889.
1915
REV. WILLlAM G. HILL

Extract from the Baptist Handbook for the year 1920. William G. Hill settled in Smyrna in 1915. The secretary of Smyrna at this time was M. Thomas of Pentwyn, Penyfai, Bridgend. In his second pastorate period, there was a split between the Rev. Hill and some of the Deacons of the time resulting in the Rev. Hill and the remainder of the Deacons leaving Smyrna to form the Pentecostal church known today as Beulah Mission Hall, Aberkenfig. Details from the Baptist Handbook for 1920 lists data from the year 1720.
Chapel Seats - 250
Number Of Members - 72
Sunday School Teachers - 8
Sunday School Pupils – 60
1926-1945
REV. GEORGE BOWEN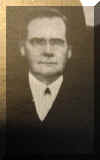 George Bowen began his ministry at Smyrna, Penyfai in 1926. He shared his ministry between Smyrna, Penyfai and Bethel Church, Laleston where he is still remembered with great affection. He worked tirelessly between the two churches until he retired in 1945 after 19 years of faithful service. He died on the 30th October 1950 and is buried in the churchyard of Bethel Chapel
Laleston.
1946-1949
REV. HAROLD JONES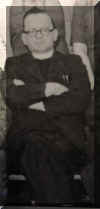 Harold Jones was born in Penygroes, Carmarthenshire on April 23rd 1908. He was inducted at Jerusalem, Tondu in 1945. He became Minister at Smyrna in 1946 until 1949, when he left to Minister in three churches in Breconshire. He died suddenly at the age of 46 on February 11 th, 1954 leaving a widow and two young children. He was a faithful and well loved Minister, who was held in high esteem by all who knew him during his ministry.
1951-1956
REV. D. GWYNORO DAVIES

Gwynoro was born in New Inn, Pencader. He was ordained in Salem, Pantygog in 1927 and later became the Minister at Nebo, Cefn Cribbwr. During this time the Crwdd Dosbarth persuaded him to take charge of Sardis, Betws, and in 1951 shared his ministry between Smyrna, Penyfai and N ebo, Cefn Cribbwr. He is still remembered by certain members of the congregation at Smyrna, some of whom he baptised, as a very stern man who preached in the pulpit with great gusto. He left Penyfai in 1956, when he moved to take charge of Hebron and Moriah chapels in Pencader, where he died in 1969.
1966-1971
REV. G. ALED JENKINS

After a ten year absence of a Minister at Smyrna Chapel, Penyfai the Induction and Recognition service took place of the Rev.G. Aled Jenkins on Wednesday July 20th, 1966. This ministry was shared between Nebo, Cefn Cribbwr and Pisgah, Pyle. Aled and his wife Marlene, who was a district nurse, made their home in Pyle, until in 1971 he answered a call to minister at Llangennech. While ministering at Smyrna, he performed a number of Baptisms, two of these being notable: The former secretary, Mr James Dare and our present organist, Mr Peter David, Hon FNCM. He is now retired with his wife in Haverford West, Pembroke shire.
1976
REV. GLYN THOMAS
"SON OF SMYRNA"
Glyn Thomas was born on September 29th, 1910. He was the son of Martha & John Thomas of Penyfai. He was a brother to Mrs Beatrice Draper and Mrs Lena Jenkins, who all attended Smyrna, Penyfai. On December 15th, 1937, he married Miss Hilda Watkins of Heol Eglwys,Penyfai. His marriage brought together two families who played a large part in the life of Smyrna. Glyn's first ministry was at Silo am Baptist Church, Grangetown, Cardiff. He also ministered at Ebenezer, in Roath, before leaving for St Mary's Street Baptist Church, Newport. He also officiated at many weddings and dedications when Smyrna was without a minister. He returned to Llanishen when he retired, in September of 1974. In 1976, his services were called upon again at Smyrna, where he officially welcomed Mr Peter David and Mrs Marlyn James as deacons. He died on April 9th, 1982 and was cremated at Cardiff
1980 - 1988
REV. RONALD S. EVANS

Rev. Ronald S. Evans, the Minister of Pisgah, Pyle and Nebo, Cefn Cribbwr, was invited to minister at Smyrna, Penyfai, and after accepting the call, was inducted on Wednesday July 23rd, 1980. The church flourished under his ministry. He encouraged young and old, and even in the latter part of him ministry, when he was seriously ill himself, he served his congregation with kindness and faith to the glory of God. He died after a courageous fight at the age of 64 on 15th August, 1988. He was cremated at Margam Crematorium and his ashes are buried at the front of the church grounds at Pisgah, Pyle. He left a widow, Thelma who lived in Laleston until her death in February, 2005. She was cremated at Coity Crematorium and her ashes were laid to rest along side her beloved husband, Ron at Pisgah, Pyle. He is remembered at Smyrna with great affection.
1980s
REV. IAN BURLEY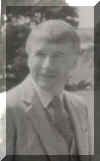 After the death of the Rev. Ronald S. Evans, Smyrna was without a minister until 1993. In between these years, Smyrna was fortunate in having the help of Rev. Ian Burley and his wife Barbara, who were both members at Smyrna. They eventually left for Huddersfield where he became the minister of two large churches. One of the duties undertaken by the Rev. Ian Burley was the Marriage of Miss Susan Dare to Mr Alan Evans on August 5th, 1989.
1993 - 1997
PASTOR PHILLlP DENYER

After the departure of Rev. Ian Burley, the 3rd November 1993, marked the induction of Pastor Phillip Denyer. He was a young man full of ideas. It was in the time of this pastorate that a choir was again formed at Smyrna and also the birth of the now famous Smyrna Coffee Morning, which is still held every Tuesday morning. In 1996, he shared his pastorate with Nebo, Cefn Cribbwr and Smyrna, Penyfai until his departure in May 1997.
1998
REV. CHRIS DAVIES
(No Photograph)
1998 gave great pride and pleasure to Members and Deacons, when a young man, namely Chris Davies, who lived in the village and was a member of Smyrna, responded to the "Call of the Lord", and entered Cardiff Baptist College, to train as a minister, Photograph below show a leaving party for Chris when he left for college,
1999
REV. ALUN J PETTY
(Extract from notes made during the 300th anniversary celebrations)Rev. Alun J. Petty was born in Nantyfyllon on September 12th, 1929 and became the product of Salem, Nantyfyllon. He preached on more than one occasion at Smyrna before going to Bangor Baptist College. He was ordained at Argoed, Monmouthshire.
He then moved to Carlisle, where he met and married his wife Marjorie and where their children Michael and Lynette were born. Then with his family he took up a pastorate at Old Colwyn Bay, North Wales. Finally, he returned to South Wales where he took up pastorate at Siloam, Kilay and then Ebeneezer Aberafon from where he retired. In 1999 he paid a visit to preach at Smyrna and was once again called out of retirement by the Church in Penyfai.
A copy of his service program may be viewed/printed from this link
Smyrna has flourished under his ministry and has grown in membership, with everyone working together. September 2000 proved to be a very busy month for Rev. Petty, when he welcomed ten new members into Smyrna at one time. The Big Seat was bursting at the seams. The service was a very moving and joyful occasion. It was with great pleasure that the "Seren Cymru" Welsh Baptist Newspaper, was able to report the following account in the year of 2000. In 1999, a new chapter was opened in the history of Smyrna Baptist Chapel, Penyfai, with the induction of Rev. Alun J. Petty as the Minister of the Church. Smyrna is a small chapel, but one full of character, and it is most gratifying to report on the commitment and warmth of welcome experienced amongst its members.
This is a church that has experienced difficult periods during its history. So, it is with great pleasure, we report the special services held at Smyrna on Saturday 7th & Sunday 8th October 2000 under the ministry of Rev. Alun J. Petty, when six new members were baptised, namely: Megan Pine, Janet Jones, David Jones, Norman Skinner, Glyn Griffiths and David Garrod. Five more members were also received into the church by way of letters from other churches, those being Dilys Morgan, Edgar Lewis, Joyce Barr and Eryl Smith. At present, it is pleasing to note that approximately forty people worship at Smyrna on a regular basis.
Rev'd Alun died at Bridgend Hospital 23rd September 2017 ~ RIP
With great sadness we report the death on  Saturday 23rd September 2017 
of our former Minister Reverend Alun J Petty at the Princess of Wales Hospital.Bridgend. Alun Petty served us well from 1999 to 2008 and was a good friend as well as very dedicated Minister  We offer our condolences to his children Lynette and Michael and grandchildren Rebecca and Luke all of whom were frequent attendees at our services
2008-2015
REV. ALISTAIR E J SWINFORD

The Rev'd Alistair Swinford studied Theology and Music at Aberyswyth and Cardiff University Colleges.
He obtained futher pastoral experience as a social worker in Rhondda, Bridgend and Cardiff. He had full and part-time ministries in South and West Wales and in Hampshire.
He also worked as an Area Manager for the Co-operative Funeral Service.
As an organist he has always maintained a lively interest in Church music and is currently the President of the Pontypridd Choral Society.
He was inducted into part-time oversight at Smyrna in 2008 and retired in 2013.
Alistair died suddenly on Tuesday 15th August 2017 ~ RIP
With great sadness and sense of real loss we have to report the death on
Tuesday 15th August 2017 of our loyal and much loved former Minister Reverend Alistair Swinford. Alistair was a good friend to so many and a dedicated Minister We offer our deepest sympathy to Mrs Myra Swinford & Family . The Internment for Rev'd Alistair took place at  Coychurch Crematorium Bridgend  Friday 1st September 2017 at 11.30am
It is estimated that approximately400 or more people attended
Myra and Family are most grateful for all the messages and cards in
memory of Alistair. Refreshments were served afterwards at:
Bridgend Masonic Hall Coychurch Road Bridgend CF31 2AP



A copy of his service program may be viewed/printed from this link
2016 ...
REV. ALWYN EVANS BA

The Reverend Alwyn Evans BA was welcomed and took up his Ministry for Smyrna Chapel during a splendid service of Recognition
Thursday 13th October 2016
(The Recognition Service Sheet - Click here)
Reverend Alwyn Evans was born in Blaenllechau, Ferndale in the Rhondda valley. He began his theological training at the Baptist College in Richmond Road, Cardiff which was a very useful and happy part of his life. In the 1970s he completed an arts degree with the Open University and after years away from disciplined study, he found this a refreshing and challenging period.
The Reverend Alwyn has served in a number of churches over his Ministerial career, begining at Maesteg in the Llynfi Valley. He moved from there to Greenfield in Llanelli, thence the Gower Coast and on to Dewi Sant in Toronto, Canada, finally serving the community at Aberystwyth. During retirement he has enjoyed a number of part-time pastorates at Maesteg and Loveston in Pembrokeshire. He now comes to us at Smyrna, Penyfai and is happy to minister to us at this delightful old chapel.
Although a Baptist since birth he has enjoyed sharing his work on Methodist's Circuits which have been equally worthwhile and inspiring for him.
Finally he is proud to declare his support for Swansea City AFC and is really pleased to see Premiership football in the Principality!
We at Smyrna now look forward to many years of happy association with the Reverend Alwyn Evans here at Penyfai.
Details and Photographs - Recognition Service 13th October 2016
Ministers during the life of Smyrna
1726 ~ 1742 ~ 1745 ~ 1801 ~ 1814 ~ 1835 ~ 1847 ~ 1915 ~ 1926 ~ 1946 ~ 1951 ~ 1966 ~ 1976 ~ 1980 ~ 1985 ~ 1993 ~ 1999 ~ 2008 ~ 2016
Copyright © Smyrna Chapel &S A Crowley 2014 to Date
Updated 27 October 2017
Webmaster Link